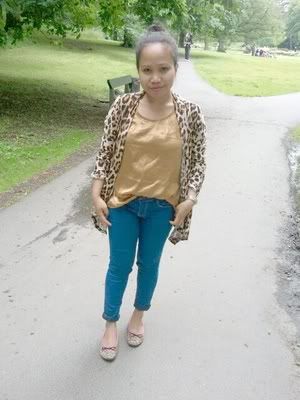 Being a mom and a wife is not easy. That is why I am so thankful for my husband for giving me a chance to go out and meet my girlfriends and have some fun. Being out with my girlfriends makes me relaxed and happy, it takes away my stress from being a mom. Do not get me wrong, I love being a mom but I also love being free sometimes from my daughter.
Anyway, when I was out with my girlfriends yesterday, it really made me excited what to wear – since it is summer I am free from boots and heavy jacket. Before digging through my closet for an outfit, I was inspired for an " Las Vegas " outfit. It was not easy to mix and match, for my Vegas inspired outfit. After spending almost two hours in my closet, I finally have my outfit ( refer to the picture above ) leopard blazer and shoes, matched with yellow sleeveless and blue jeans. What a perfect outfit, considering I did not buy anything to compete the outfit instead dug through my closet. I will probably do that again for another day.
Are you curious what girls do when meeting? I tell you what we did. First we met in a restaurant and ate our lunch there. We left the restaurant after enjoying a cup of cappuccino. And then went to the mall for sale shopping, we headed to the Cinema house with a few shopping bags with us. It was another great time with my girlfriends. Till the next time!